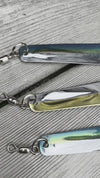 Custom Designed - Herring Aid GOLD Palistair Sand Lance #5
Saltwater Trolling Lures
The custom Herring Aid GOLD Palistair Sand Lance #5 is a fancy paint job on a classic vintage commercial spoon blank.  We had a few of these brand new in a box and decided to put an unbelievable paint job on it.  Originals of these spoons can be found on Fisharmy.ca website for purchase.
The custom herring aid paint job is on one side only of the spoon, giving it that two tone effect.  A clear glitter infused resin is then applied to the painted side protecting it from the saltwater corrosion keeping it's bright original sheen.  These spoons undergo electrolysis and the gold eventually tarnishes. Some people say it's that effect that lures the fish to bite.  So, this part is preserved on the original side.  Spoons come with double welded stainless rings and a XXX stainless Mustad hook.
We fished the spoon in Nootka Sound in early July and it was a game changer on bright sunny days at 69ft!! 
VERY Limited Edition, only 10 made!!